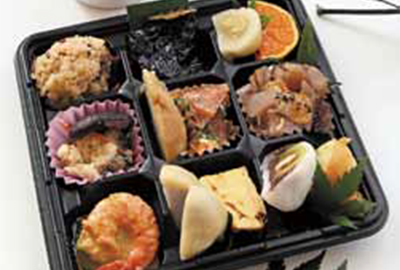 Yame-no-Kāchan Bento
Prepared by mothers across Yame City, this obento (boxed meal) is filled with an assortment of local cuisine made of fresh, seasonal vegetables harvested from their own farms! Packed with delicious dishes that the residents take pride in, these are available at festivals and events in each region.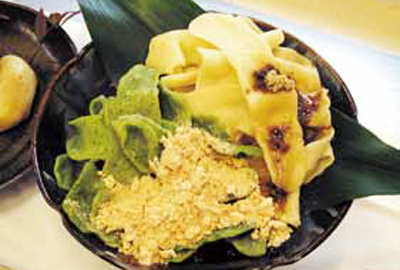 Goroshi
This is an easy-to-make, traditional snack native to this region, which is called Chikugo. Made of wheat flour, salt, and water, the dough is kneaded and left to rest for a while. It is then thinly spread out with the palm and boiled in a large amount of water. Once it is cooked, it is put into a strainer to drain. Finally, it is served with kinako (sweet soybean powder) or brown sugar. A similar snack is referred to as Yaseuma in Oita Prefecture, and Nubedago in Saga Prefecture. It was commonly eaten in between meals at three o'clock during the busy farming season.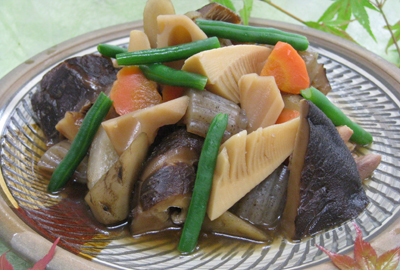 Gameni
The name of this dish is alternatively believed to have been derived from kameni a softshell turtle stew, or from a local word gamekuru which means "to gather." Gameni consists of burdock roots, lotus roots, carrots, bamboo shoots, shiitake mushrooms, taro, konjac, and chicken. All ingredients are stir-fried and then boiled in dashi (soup stock) until soft. This is an essential dish for celebrations. This dish is nationally known as Chikuzen-ni (Chikuzen is the name for an old province that is present-day western Fukuoka Prefecture), but this traditional dish is eaten all across Fukuoka, including this Chikugo region.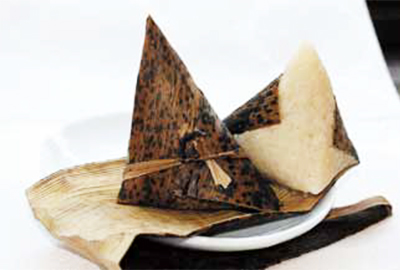 Oni-no-Tekoboshi
This traditional cuisine received its name due to its resemblance to a devil's fist. The mochi rice cake wrapped in bamboo sheath is traditionally eaten on Children's Day on May 5th in the districts of Tachibana and Kurogi. Due to the antiseptic effects of the bamboo sheath, the mochi can be preserved for a week even during summer. The bamboo sheath also enhances the flavor of the mochi by adding a mild sweetness and aroma to it. Proficient skills are required to pack the mochi inside the bamboo sheath that is folded into a triangle and then to tie strings around it to maintain its shape.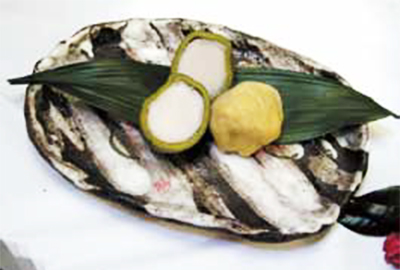 Imo Manjū (Steamed Taro Ball)
Imo Manjū is made of a whole, boiled taro root wrapped in flour dough. Commonly eaten in Yame, it is available throughout the year at local produce stores. The recipe is simple, too. First, the taro is peeled and boiled in salt water. Next, it is wrapped in a dough made of flour, dango powder, and salt, and then either steamed or boiled in plenty of water. It is sometimes wrapped with dough skin that includes yomogi herb. When cold, Imo Manjū can be heated in a thermos jar or warmed in a toaster oven.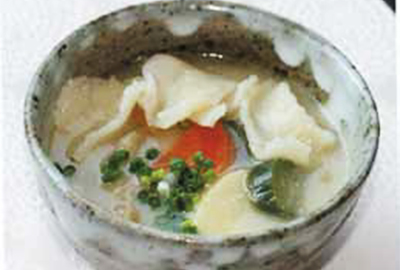 Dagojiru (Dumpling Soup)
Dangojiru, one of Kyushu's renowned dishes, is referred to as Dagojiru here in Yame. The dough consisting of wheat, salt, and water is kneaded and left to rest for a while. It is then thinly spread out with the palm and put into a soup. Most people use dried sardine soup stock and add miso to it, but soy sauce is also common in many households. Potatoes, pumpkins, burdock roots, carrots, mushrooms, and other seasonal produce can be added to make a hearty soup.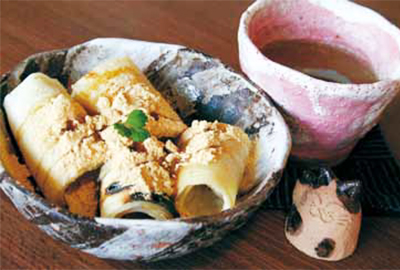 Funayaki
Funayaki is a Japanese-style crepe that has been part of Yame's cuisine down the ages. The batter made of wheat flour and water is thinly spread on a frying pan. Once cooked, it is topped with brown sugar and wrapped like a crepe. Some people wrap julienned vegetables instead of sugar. Another common way to cook Funayaki is to add takana (leaf mustard) pickles into the batter. From desserts to simple side dishes, there are many ways to eat this wheat flour dish.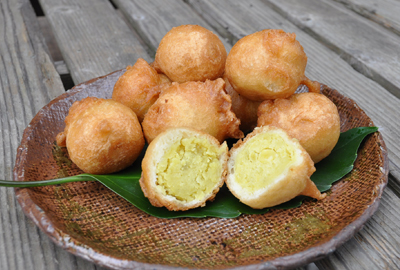 Hotaruage
Hotaruage, which literally means deep-fried fireflies, got its name from its shape that resembles a firefly's abdomen. A fried manjū (bun) stuffed with sweet potato paste, this is a popular snack among children and adults. Sweet potato paste has long been commonly used for manjū and botamochi (rice dumpling covered with the paste) in Yame. Hotaruage is one such confection and available in the Tachibana district.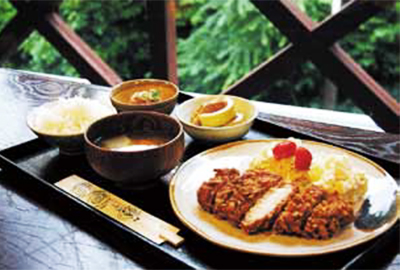 Roppaku Kurobuta
Roppaku Kurobuta is a variety of Berkshire pig with six white parts: the tip of the nose, the four feet, and the tail. Authentic Berkshire pig raised on designated feed is recognized for the crisp, fine texture, and velvety consistency of its meat. The establishments inside Hoshi-no-Furusato Park serve Roppaku Kurobuta that is shipped directly from the Kagoshima Prefecture Roppaku Kurobuta Producers' Association.