Another characteristic of the Yame Fukushima Buddhist altar is that it can be disassembled and reassembled, so that it can be repaired many times. In order to easily disassemble the altar, it is built based on the principal of seamless joining(hozokumi). In addition, nails made from bamboo are used instead of iron for the smaller parts. As time goes by, the iron nails will not come out, due to rust. With bamboo nails it is easy to disassemble, since the nails can be taken out with no worry about rusting. Also, over the years, soot stains (susu) build up due to smoke from the candle, but after the parts are disassembled, the soiled areas can be easily cleaned piece by piece. After repairing the broken part, the Buddhist altar can be cleaned using a technique called, whole washing (maruarai), the lacquer can be repainted and the gold leaf can be re-installed. By reassembling the altar, the ancestral family altar can used for years to come.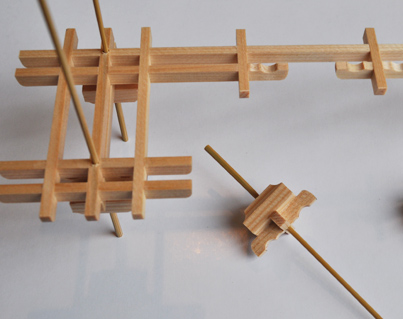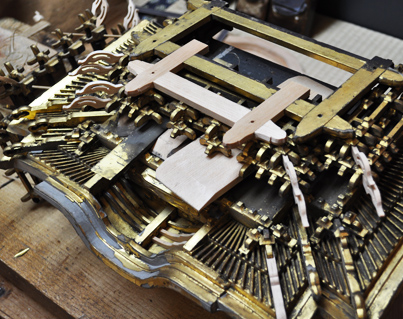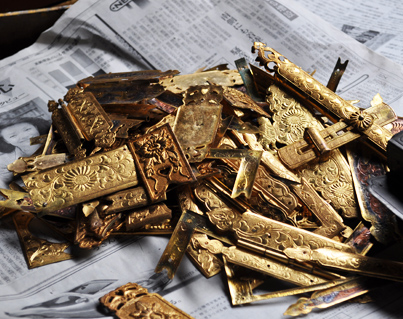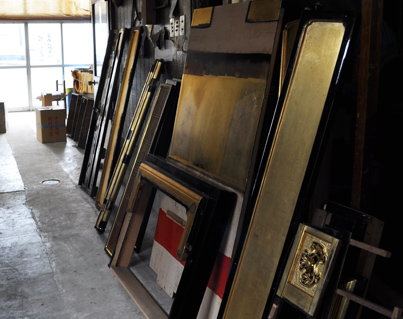 The Palace building, assembled using bamboo nails.
Bamboo nails can be pulled, so that the altar can be disassembled to repair any broken parts.
The altar can be washed by removing the fine metal hardware piece by piece.
Disassemble the wooden parts, such as the doors and foundation, apply lacquer and repack the gold leaf.